(Dr. Rameshwar Dayal)
Food Joints of Delhi: You can roam in a Hindu-dominated area of ​​Old Delhi or visit a Muslim-majority area. One thing will be clear to you that in the streets, markets and streets, you will find many food and drink shops and restaurants and there will be a lot of foodies. Once we surveyed here, we found that usually at every 20 steps, you will definitely see some food here.
Today again we take you to Old Delhi. Today we will visit Chandni Chowk area and we will get very tasty pakodas served there. There is not much frills on the way of this pakoda wala, but the quality of pakodas, the age old shop itself is its credibility and taste. Whenever you go to its place, you will see people eating pakodas or getting them packed.
This narrow road is full of food and drink
On entering Dariba Kalan Bazar of Chandni Chowk, a road on the right turns towards Kinari Bazar. This narrow road meets the new road passing through Maliwara. On this road, about 400 meters long, there are many famous food stalls and shops of Old Delhi. The path of the well-known street paratha wali is also from here, so the famous khurchan wala, badmi puri-vegetable to kachori are present on this narrow road.
A well-known groceries/grocery store of Old Delhi is also in this market. It can be said that this beach market looks more like goat-zari with less food-treasure. This is where there is a dumpling shop near Gali Malivada. Till years ago this famous shop did not have any name. In the locality it was known as Malivade ke pakode wala. Since Rajesh is selling it now, this place is known by his name.
There are many types of dumplings
There is a huge variety of pakodas at this shop, which is enough to make the mouth water. Chana dal kalami pakoda is earning a name. Apart from this, along with moong dal pakodas, spinach, potatoes, cabbage, paneer pakodas will also be seen tempting your tongue and heart. Before preparing all these pakodas, special spicy spices, salt etc. are poured on them. All these pakoras are first wrapped in gram flour and once fried lightly in refined oil and filled in the parat. After that people can take that dumpling to eat whatever they want.
If you want to take mixed pakodas, then you will get 100 grams for 25 rupees and if you want paneer pakodas then it is available for 30 rupees. The pakodas of your choice are once again cooked in hot oil. Then they are put in two. A special kind of chaat masala and spicy green chutney are given on top of these pakoras. These hot and spicy pakodas filled with different varieties and tastes, apart from your tongue, your mind also satisfies.
Mix pakodas will get 100 grams here for 25 rupees.
Pakodas are being sold for 90 years
Apart from pakodas, potato bread pakodas, paneer bread pakodas, kachoris and samosas will also be available on this dish, whose price ranges from Rs 10 to Rs 30. But people's mind stays in the dumplings of this shop. It is a different matter that when people reach there, bread pakoras or samosas are being fried, then they should be eaten. But there is no answer to hot pakodas. People believe that the taste of the pakodas of this shop is different from others and they are also presentable.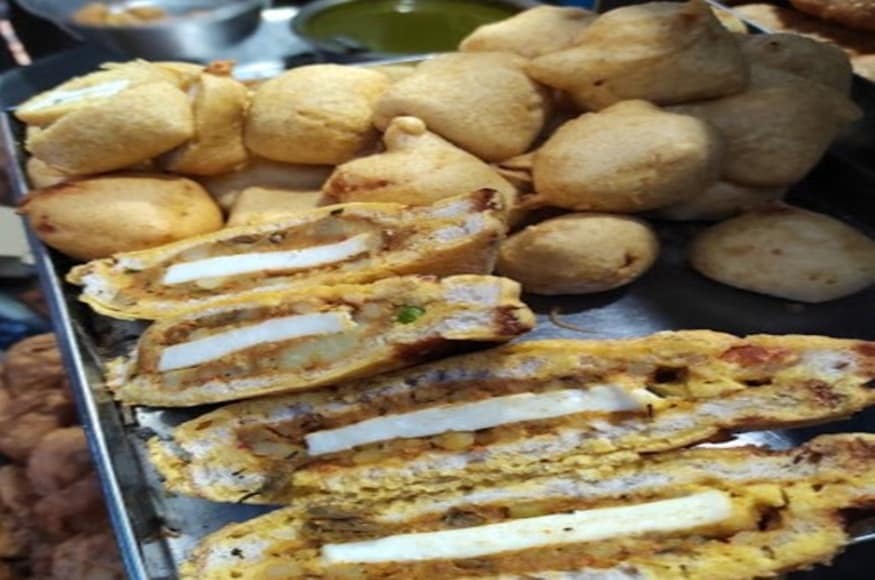 Potato bread dumplings, paneer bread dumplings, shortbread and samosa are also available here.
Rajesh Rathod is running this shop nowadays. He says that his ancestors started selling pakodas in this place about 90 years ago. Since then our family has been selling pakodas only. He explains that our special spices, pure gram flour and oil make our pakodas tasty. All this stuff is bought from the famous grocers of Old Delhi. The spices are ground themselves. Pakodas start getting at this shop from 10 am and their frying continues till 8 pm.
Lives. Sunday is a holiday at this shop.
Nearest Metro Station: Red Fort
Read Hindi News online and watch Live TV on Hindi website. Know news related to country and abroad and your state, Bollywood, sports world, business.
.