Before the independence of India, it was a big issue that what would be the national language of independent India? Language was also a major reason for the growing rift between Muslims and Hindus. In North India, people were getting the impression that Hindi was the language of Hindus and Urdu was the language of Muslims. However, a large number of people who knew the Urdu script till then were. People used to write in Urdu only.
Meanwhile, both the promotion and practice of the Devanagari script of Hindi was increasing. In such a situation, the question used to come in front of Mahatma Gandhi again and again that what would be the language of independent India? We are telling you what Mahatma Gandhi said on the question of national language from the time of his return to India till the time of independence of the country.
In Indore, Gandhi had demanded that Hindi be made the national language.
In 1918, shortly after returning to India, Mahatma Gandhi said at the Hindi Sahitya Sammelan in Indore, "As the British speak in English. English is used in all works. Similarly, I request everyone to pay respect to Hindi as the national language. We should fulfill our duty by making it the national language.
Mahatma Gandhi was very serious about the promotion of Hindi throughout the country. He first made several Hindi messengers, including his son, and sent them to states where Hindi was less spoken.
After this Mahatma Gandhi sent five 'Hindi messengers' to those states where this language was not much prevalent. Mahatma Gandhi's youngest son Devdas Gandhi was also one of these five messengers. These five Hindi messengers first reached the then Madras State for the promotion of Hindi. Which is today's Tamil Nadu.
Gandhi wanted to use Hindi even in court hearings
When Mahatma Gandhi was asked that English is being used officially. Instead of changing it, it should be continued like this because people have started understanding this language in India too. On this question, Mahatma Gandhi said that it would be better to make Hindustani the national language of India than English because it connects Hindu-Muslim, North-South. Mahatma Gandhi also believed that Hindi should be used not only as a colloquial and official language of the country but also for hearing in courts.
Regarding this, he used to say, "The national language should be used during court hearings. If this does not happen, people will not fully understand the political process. National and regional languages ​​must be taken forward in court. At the end of his speech, Mahatma Gandhi said, "I have a humble but firm view that unless we give Hindi the status of a national language. All talk of Swarajya will be meaningless till the time other regional languages ​​are not given their necessary importance.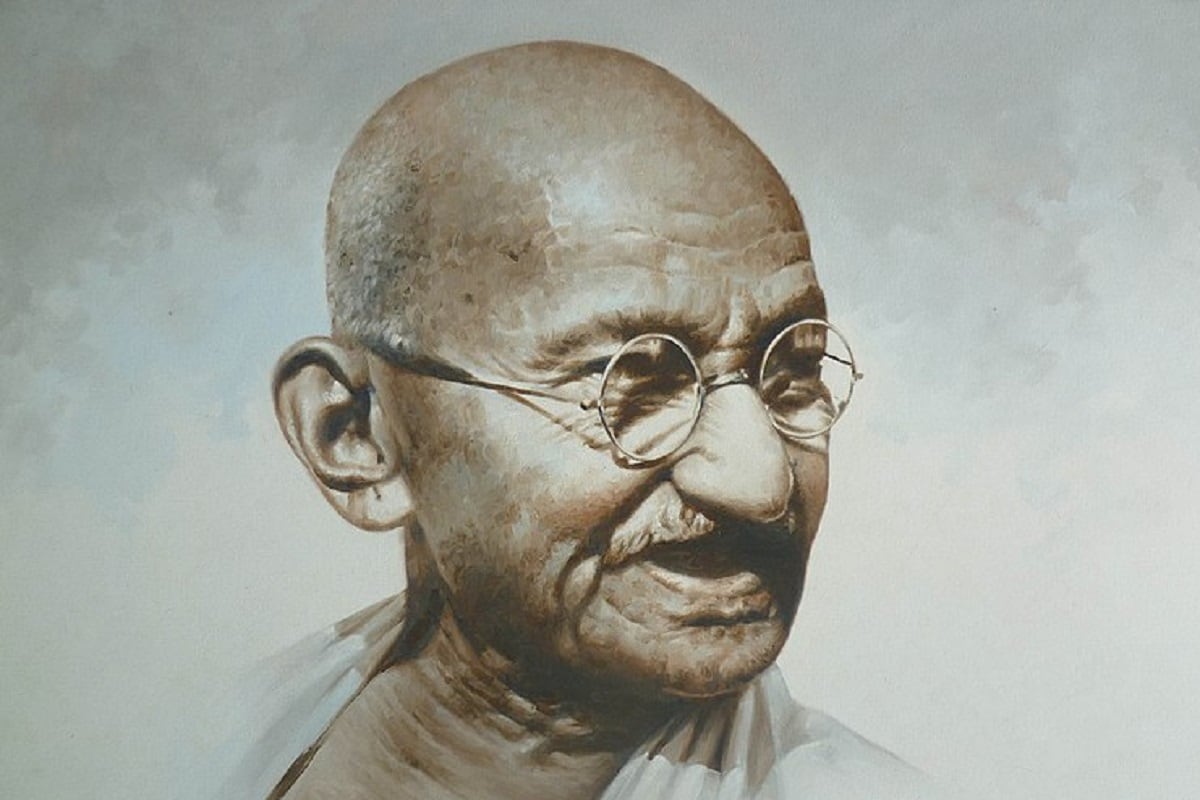 Gandhiji was upset with those people who spoke Hindi but wrote it in Urdu script. (Photo: Wikimedia Commons)
Gandhi did not want the 'Hindi' we know today to become the national language
In an article published on August 10, 1947, Mahatma Gandhi wrote about the national language, "I meet Hindus and Muslims every day in Delhi. In which the number of Hindus is more. Most of them speak a single language in which Sanskrit words are few, Persian and Arabic also have not many (words). A large number of them do not know the Devanagari script. They write me (letter) in a different English. And when I tell them not to write in foreign language, they write in Urdu script. So if in such a situation this khichdi of many languages ​​is 'Hindi' and its script is only Devanagari, what will be the plight of these Hindus?
In the same article Mahatma Gandhi also wrote, "The millions of Indians who live in villages have nothing to do with books. They speak Hindustani, which is written by Muslims in Urdu script and Hindus in Urdu or Nagari script. That is why it is our duty and your duty to learn both the scripts.
Gandhi's views on Hindi were mentioned many times in the Constituent Assembly too.
Referring to this article of Mahatma Gandhi, member of the Constituent Assembly, Mohammad Ismail, during the debate on the question of language on September 14, 1949, proposed that the Constituent Assembly accept Hindi as the official language, both Urdu and Devanagari. The same scripts should be accepted as the official language of the state. However, this could not happen and the Constitution considered Hindi as the official language in Devanagari itself.
Rajendra Prasad remembered Mahatma Gandhi after Hindi became the official language
When Hindi got the status of official language in the Constituent Assembly on September 14, 1949, Rajendra Prasad recalled Mahatma Gandhi's efforts for Hindi as a member of the Constituent Assembly. He said, "I would like to say a word for South India. When Mahatma Gandhi went to Champaran in 1917, I had the opportunity to work with him. And when he thought of promoting Hindi in South India and decided to ask Swami Satyadev and his beloved son Devdas Gandhi to start this work.
Rajendra Prasad had described this Hindi propaganda program as a major program in the Hindi Sahitya Sammelan held in Indore in 1918. He had said, "I cannot claim that I have been well associated with this program in the last 32 years but I have traveled from one corner to the other in South India and there people like Mahatma Gandhi's call for this. The response has been, it makes my heart very happy to see him.
Note: The script of Urdu language is called 'Nastlik'. But Mahatma Gandhi has written only the word 'Urdu script' in his writings. That is why in this article also the word 'Urdu script' has been used again and again.
Read Hindi News online and watch Live TV News18 on Hindi website. Know news related to country and abroad and your state, Bollywood, sports world, business.
.